Riverfront Gardens
In Memory of Governor Robert D. Ray 1928-2018.
Governor Ray 2007 at Chengdu Giant Panda Base.
We celebrated the successful completion of our 1.9 million $ fundraising campagn on October 24, 2007.
A grand opening celebration of the gardens took place on August 1, 2009.
Robert D. Ray Asian Gardens, The Chinese Culture Center of America (viewed from across the Des Moines River)

Robert D. Ray Asian Gardens, The Chinese Culture Center of America ( viewed from the Robert D. Ray Drive )
The development of the Robert D. Ray Asian Gardens and the Character Gardens will mark the first phase of the CCCA Riverfront Project. These gardens will not only highlight the importance of diversity in our community and acknowledge the significant contributions that Asian Americans have made to Iowa, but will also serve as lasting monuments honoring Governor Ray's visionary moral leadership and humanitarian outreach.
Situated on the east bank of the Des Moines River on a 1.7 acre site provided by the City of Des Moines, south of the Botanical Center, across the river from the Iowa Events Center, the CCCA Gardens will offer a vibrant and diverse quality of life for the people of Iowa, serve as a climactic destination attraction for the Principal Riverwalk, and supply a natural linkage between the Principal Center Street Pedestrian Bridge and the Des Moines Botanical Center.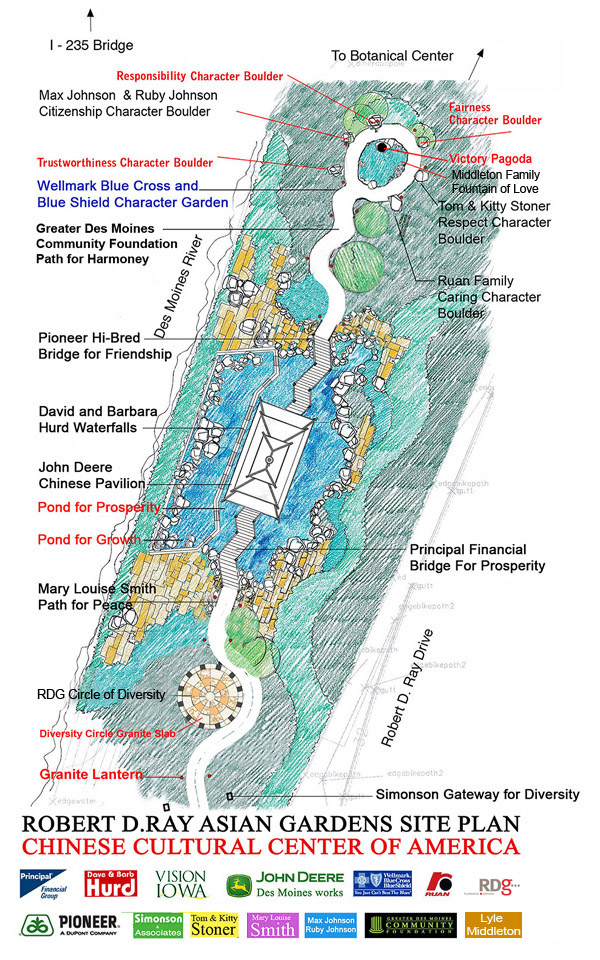 The Robert D. Ray Asian Gardens features a 43.5'(L) x 24' (W) x 37'(H) Asian pavilion atop an undulating bridge spanning a pond that cascades into the Des Moines River with a series of waterfalls. Accented by stone pagodas, lanterns and sculptural rock formations, the Asian garden's flowing lyrical ambiance will transport the strolling visitor to a picturesque Far Eastern paradise.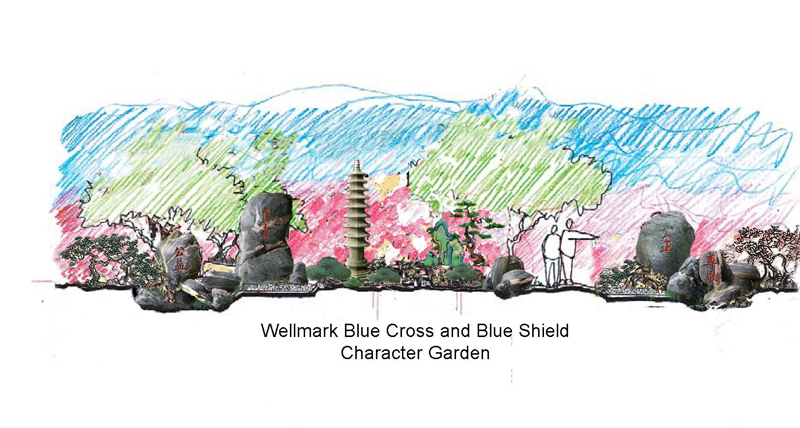 The Character Garden features six large granite boulders arranged in a circle, each carved with Chinese characters representing responsibility, citizenship, fairness, respect, caring, and trustworthiness. Complemented by bonsai-like evergreens, the character boulders symbolizes and extols the six enduring moral values that transcend time, nationality and culture.
Opened to the public in the Spring of 2009, the gardens are funded by public and private sources, including leading Iowa businesses such as the Principal Financial Group, Pioneer Hi-Bred International, Wellmark Blue Cross and Blue Shield, John Deere Des Moines Operations, Ruan Companies...... Anchoring the fund drive by pledging a $240,000 challenge gift, G. David Hurd, Honorary Chairman of the CCCA and Chairman Emeritus of the Principal Financial Group, made the following statement:
Barb and I have known Bob Ray for 40 years. Bob's work to bring Southeast Asians to Iowa has made our state a better place to live. This opportunity to honor him is important to us. Further, we have become convinced that efforts to build understandings of other cultures are fundamental steps towards world peace. The Asian Garden does that. Therefore, we offer a challenge pledge of $240,000 to be paid when the fund drive is otherwise successfully complete.